Rural game changers
Reducing time, increasing yields
Good irrigation is the key to strong agricultural output, yet for many farmers in Myanmar, water management is a continuous challenge. Relying on ancient and labor-intensive methods has kept farmers' productivity low and costs high. As a result, Myanmar has one of the lowest percentages of irrigated farmland in Asia.
There's huge potential for impact here. Our Yetagon products are designed to replace the back-breaking and time-consuming work of hauling water from the well to the fields. A full irrigation set can cost a farmer just $100, but reduce labor time to minutes and significantly increase yields.
Yetagon Irrigation Products
High-tech tools, smallholder price tag
Yetagon is the Burmese word for waterfall. It's also the brand name for our portfolio of farm tech products including sprinkler and drip irrigation, solar-powered water pumps, sensors and precision planting. We're taking new agricultural tech and redesigning it for small-plot growers.
Online Drip Emitter
Small Multi-angle Mister
Medium Multi-angle Mister
Ground Sprayer
Online Drip Emitter
Customizable, low pressure, precision irrigation, delivering water right to the root.
Price: 18,000 kyats / 13 USD
Area Coverage: 1 acres
Designed in 2019
Lotus
Solar irrigation pump
play_circle_filled
Meet the Lotus — one of the lowest-cost solar pumps in the world. It makes clean, quiet running water a possibility for growers previously reliant on dirty diesel engines.
At $350, the Lotus is one of the pricier products in our line, and we've designed a rent-to-own program to ensure it gets into the hands of the customers who need it most.
Designed in Myanmar
Myanmar has gone through incredible changes and we've been changing, too. At the forefront of farm tech for the last 19 years, we began by introducing the humble treadle pump. A few years later, we were the first to introduce drip irrigation, and subsequently, sprinkler irrigation and solar-powered pumps.
All of our products are designed on location by our in-house design lab, based on feedback from farmers.
Creating value every day
In addition to reducing the time and drudgery of manual watering, by using our products, farmers are able to diversify the crops they grow and focus on higher value crops. Often they are able to expand their acreage under cultivation and extend the growing season. All this leads to improved productivity and higher incomes.
Going the last mile
Getting products to remote Myanmar farmers is no small feat. We employ a strong network of local distributors, sales representatives and an online ordering channel to sell our products nationwide.
I used to pray that summer would end sooner because hauling water was so exhausting. Now that I've installed drip, summer can last as long as it likes.

- U Hla Ngwe, Latpanton Village
Yetagon Irrigation by the numbers
223
Townships
Townships served
250
Dollars
Annual median income increase per customer
20,000
Customers
Target for FY23
112,617
Users
Current active users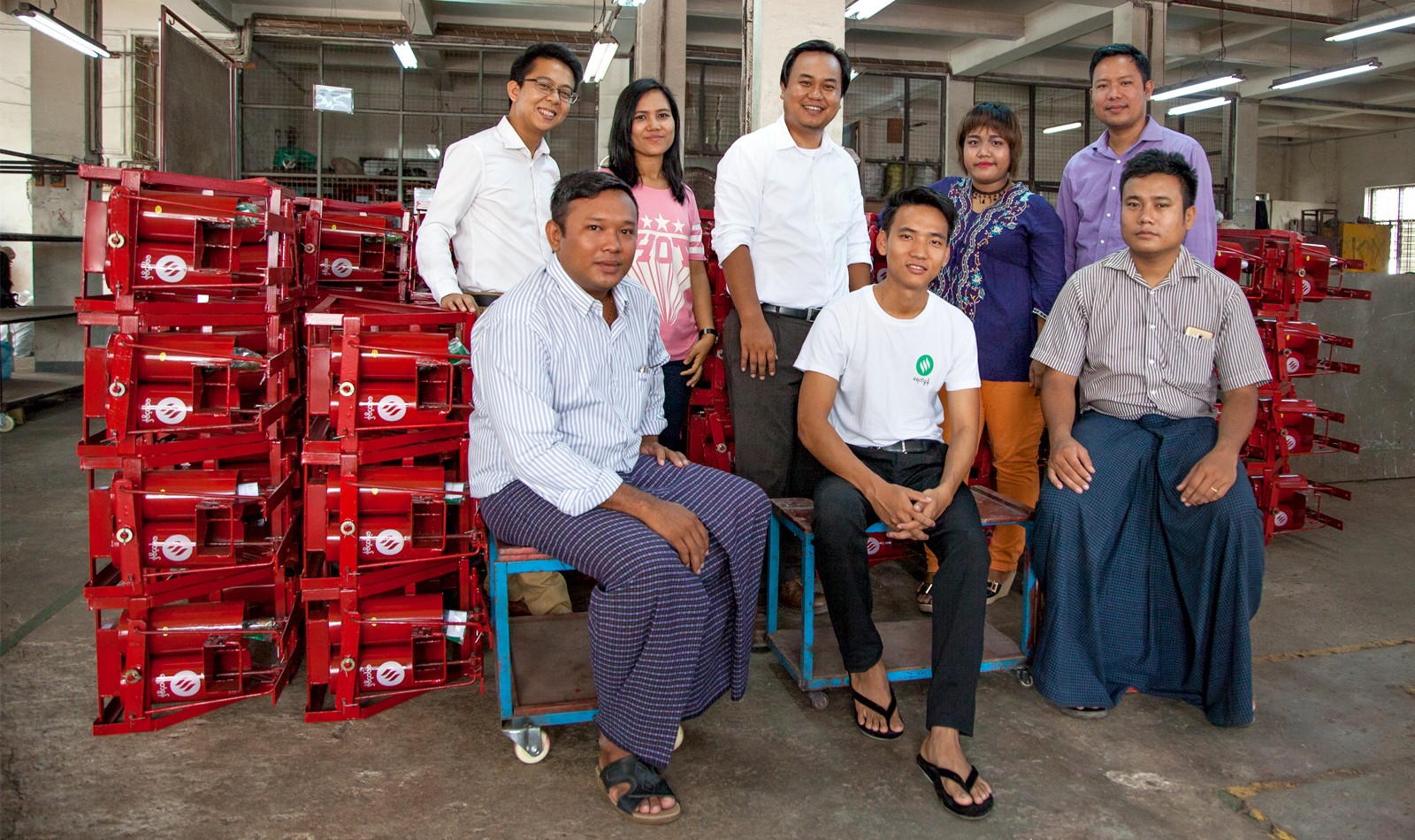 The crew that makes it happen
The farm tech team is made up of around 130 individuals nationwide. Here are just a few of our team leaders: Oak Soe, Win Win Htwe, Sai Han Linn, Thin Thin Htwe, Soe Paing, Kaung Htay Swe, Kyaw Kyaw Win and Toe Lin.